It is true women love wearing red shoes, however, these red shoes differ in style, which means that also the way to style them differs. For example, women have red pumps which they wear with pencil skirts, dresses, pants and suits.
But you have to be careful when matching red shoes with other fashion trends, because red is a bright secondary color which matches with a few colors, so, I advise you to try out your red shoes with complementing outfits and colors, if your not sure of your looks, try asking someone close at home.
PICTURES OF LADIES WEARING RED SHOES:
Advertisements
Since these red shoes differ in style, their some basics you need to know while choosing a red shoe. For example,
If you're looking for a red shoe to wear to a date, opt for slinky red stiletto pumps, these shoes will match well with your red or black dress. Don't go for a date in red flats shoes or ballet flats.
Keep your outfit simple and cool. Women who love wearing red shoes to work, i advice you to keep your trends simple, the shoe is already bright in color, so don't match it with bright colors like yellow or white. Simply complement them with black or dark grey outfits; this will calm down the bright red pumps or flats.
Opt for short red pumps for work. I beat of you can wear those high heel red pumps the all day at work. I know you want to look fashionable, but why impress others when you're not comfortable, yes, red heels look fabulous, but opt for short heels.
Try out different shades or red: It is true, red has different shades, and some red shoes are too bright while others are a bit dark. If you feel uncomfortable with bright red shoes, then opt for dark red shoes. Fashion is about feeling comfortable and confident.
Advertisements
Today on Olixe, I have compiled a list of the best red shoes every woman would love to wear and I have also included tips on what to wear with each red shoe. I know my test for women shoes might not be that great, but I'm sure that each of you will find at least one great red shoe on this list.
NOTE: Links to stores where you can buy these Red Shoes for Women are listed at the end of this post.
Advertisements
10 BEST RED SHOES FOR WOMEN AND WHAT TO WEAR WITH THEM:
1. Gucci Lisbeth Patent Red Leather Platform Pump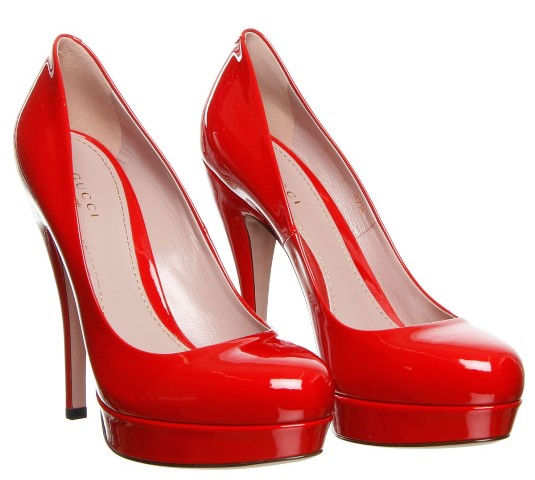 AFFORDABLE RED SHOES FOR WOMEN:
Classic Round Toe Patent Slip On Basic Comfortable Flat Shoe – $15.00
Women's Shoe Ballet Basic Light Comfort Low Heel Multi Colored Flat – $16.99
Womens Pumps Platform Open Toe High Heels Ribbon Accent Multi Colored Shoes – $23.99
Converse Chuck Taylor All Star Shoes – $38.48
Vans Unisex Authentic Skate Shoes – $25.73
When we talk about real elegant red shoes, this Gucci Lisbeth Patent Red Platform pumps rocks number one on our top ten list of red shoes for women. For a minute, let's forget about how much it costs, and concentrate on the style and beauty of this pump. Unlike other cheap pumps with wired platforms and funny toe shapes, this one was crafted in such a way that you can wear it with almost every classy outfit. The heel measures 135mm and a 25mm platform which features a black piping around the sole. The round toe will ensure that your toes get no pressure, so you can wear these red pumps for a long time during the day without feel any discomfort.
What to wear with this Red Platform Pump by GUCCI:
Tip 1: My first option will be a black and white dress. These classic red pumps will match with a black and white, make sure the dress is not too long or too short, let it stop just below the knees buy just 1- 2 inches. Then complement the trend with a black purse and black earrings. To add value to your looks, you can wear some red lipstick, and also polish your nails red to match with the red pumps.
Tip 2: You can team these red platform pumps by Gucci with skinny denim jeans. In this case, I will go for denim blue jeans with a simple fade. Now you can match your skinny jeans with a metallic top and a metallic handbag. You can as well wear some red lipstick and red nail polish.
2. Suede Pointed Pumps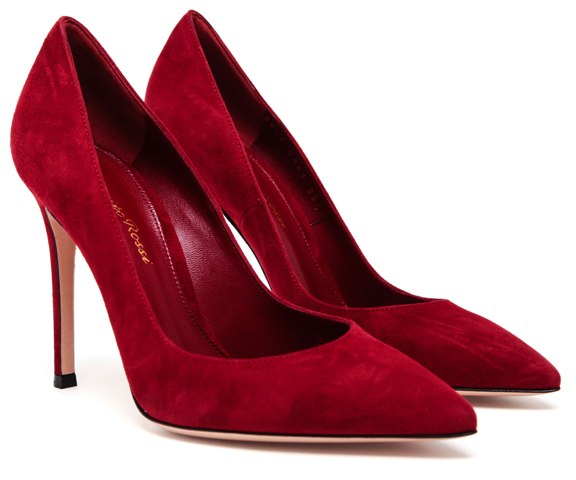 If you don't want the round toe red pumps in position (1), I'm sure you will love these red sharp pointed suede pumps designed by Gianvito Rossi. They also feature a slip-on style which makes it easy to wear these pumps; they have cushioned leather sole which makes them look elegant and durable. The options of styling these sharp pointed pumps are limitless, because they have both a formal & casual look. You can wear them to a party, to a night club, to work and a date. Since they go to all these places, this means that also the trends to match with them are limitless.
So, what can you wear with this sharp pointed red suede pump?
Tip 1: If you want to wear them to work, keep your fashion trend very simple but elegant. For example, you can wear these red suede pointed pumps with a black pencil skirt, make sure the skirt stops just below the knees, then complement your black pencil skirt with a white top with a red, black, white, floral collar. This floral collar on your white top will create some contrast with the pumps and the black skirt. If you fail to get a top with a floral collar, you can wear a red square scarf with your top; tie the scarf so that it looks more like a draping collar. Then for the bag, you can opt for a chain link red & black leopard print shoulder bag.
Tip 2: Women with class and integrity, you can wear these suede pointed pumps with flared pants. White, red and black pants will look good with these pumps. For those who prefer red pants, I suggest you opt for bright red pants; a good example is the type of red on shoe in position (1). Since the pumps have dark red suede, they will match well with a bright red pant; you can then match the pants with a white sleeveless top and black slim blazer. Complement the shoes with a dark red suede purse.
3. Collection bow pumps in stripe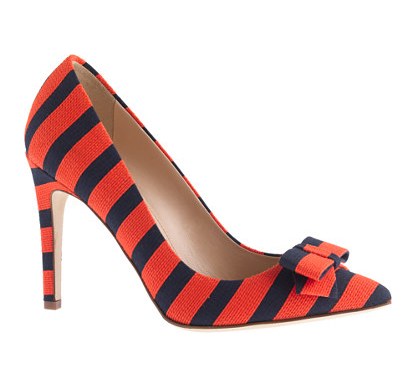 You might love to wear a red shoe, but you have this feeling that you want something unique and outstanding. In this case, forget about the plain red shoes; go for this stripped red and navy blue bow pump. This pump features a pointed-toe, a stripped style and a bow on the front. It also has a slip-on style, the heel is not to raised, so if you always have issued with high heels, just try out this medium heeled pump and feel the difference.
Tips on how to style this stripped Red / Navy bow Pump:
Tip 1: You can team these stripped pumps with a navy blue pencil skirt or navy dress. If you wear a navy blue dress, you can complement the pumps with a red slim belt over your dress and a red purse.
Tip 2: White pants will match with these stripped pumps. Simply wear a navy top with your white pants to complement the navy stripes on the pumps.
4. Tribute High-Heel Leather Sandal, Red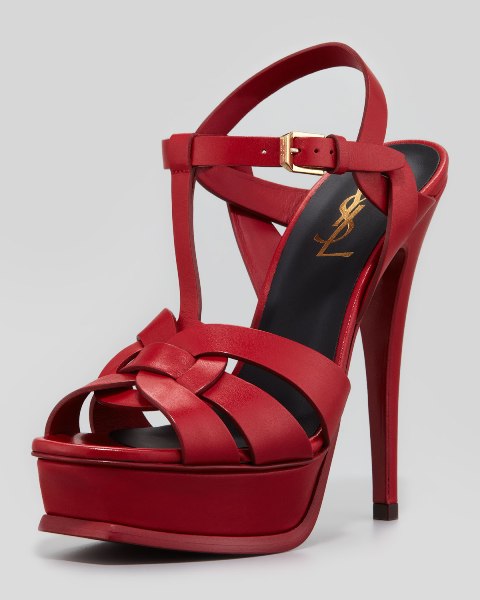 You might not want to wear closed pumps or sharp toe red pumps, but you also want to look fashionable by wearing red shoes to a party, date or work. In this case, I suggest you opt for this red platform high heel red sandal. This is a classy platform sandal designed by a famous designer "Saint Laurent'', he might be gone, but his legacy will still remain, you can tell the quality of this red hue just by looking at the shoe. It features buttery leather upper, wide straps, t-strap style, open toe, and a raised platform. When it comes to durability, you don't have to worry about that, because these red hue sandals have a leather sole and 1 1/2 platform, strong enough than most pumps.
Now, what can you wear with this Red Hue Platform Sandal?
Tip 1: Many times I see celebrities wearing platform sandals with short dress, i guess you can also wear a short red dress with this red platform sandal, if the dress requires you to wear a belt, you should opt for a black belt and complement it with a black purse and accessorize with black earrings, then wear red lipstick to create a color balance.
Tip 2: How about teaming this red hue sandal with a black and white zebra dress. I personally love these zebra dresses because they look fabulous, and the other advantage is that white & black match well with red, so give it a try and give us a feedback. A red hue purse will be the option for this trend.
5. LACE PUMPS WITH METALLIC STILETTO HEEL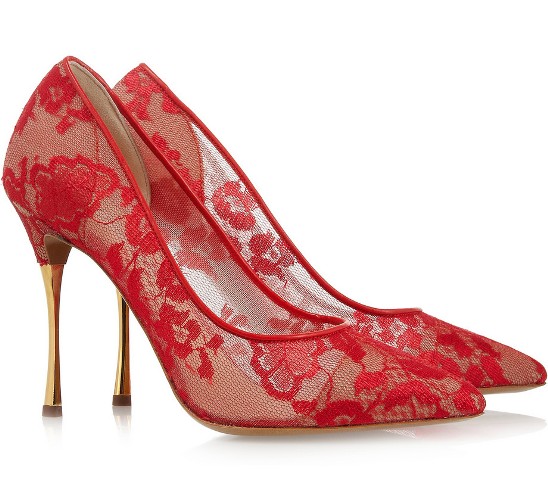 WOW, this is a wonderful formal red pump for working class ladies. If you want to dress and impress men or get respect from your employees while at work, try out these golden heel pumps. They have a floral mesh upper which is transparent, a pointed toe and a slip-on style.
Styling Tip:
Tip 1: You can wear these Lace-mesh pumps with narrow leg red pants; make sure that the pants stop just above the ankle so that this pump gets enough exposure. Then complement the red pants with a white long sleeved blouse, leave the last two buttons of the blouse open to show off the golden necklace, then match the outfit with a pure leather purse, you can also wear some red lipstick.
6. Couture Bow Pump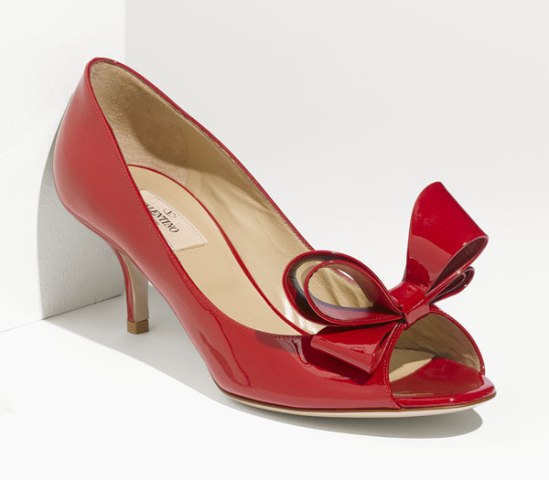 There is something unique about these bow pumps. If you don't want to wear red high heels or red platform pumps, why don't you try out these couture bow pumps designed by Valentino? This is a great option for high heels, you will still look fashionable yet the comfort and ease which comes with them is un-measurable. This Couture Bow Pump features a peep toe, shiny patent leather upper, a slim short heel which makes them easy and comfortable to wear and leather lining and sole.
What to wear with this short Couture Bow Red Pump?
Tip 1: My first choice will be a black jersey dress. This type of dress is short and sleeveless; they have a very narrow waistline and pleats. Since the dress is above the knees, the pumps will get enough attention. Since the dress is black, you can add value to your trend with a red purse of chain handbag. Red lips are not necessary, but you can try them just in case you love wearing red lipstick.
Tip 2: How about a floral dress which has red / blue / black/ and yellow prints. This type of dress can match with more than on color of shoe, so you can also wear it with this short pump. However, the dress has to be above the knees by 1 – inch.
Tip 3: Do you love metallic or golden dresses. If yes, then this classy short red pump will match with a dark golden or metallic dress. Please, keep this trend very simple, wearing red lipstick will complement the red pumps.
7. Demario' Pump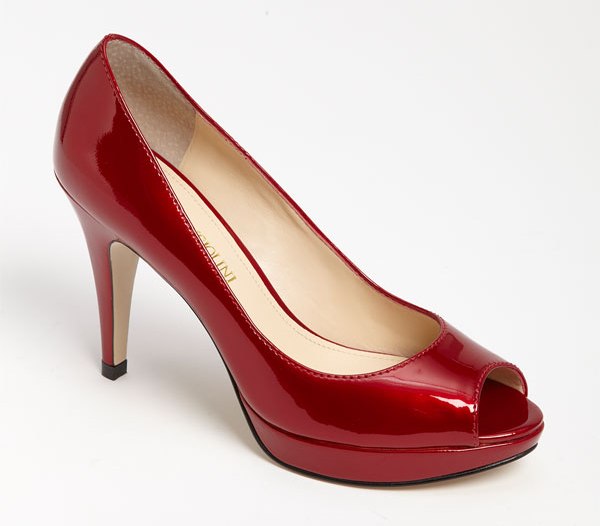 Have you been looking for an exclusive red pump to wear to a party or work? This Demario' Red Patent Pump designed by Enzo Angiolini is the best red shoe i can recommend. It does not matter which position it scores on this list, what matters is the quality and beauty of this shinning red pump. It features an open toe which will ensure that your toes get no pressure from this pump, so if you plan to wear pumps the all day, i suggest you opt for this style of shoe. It also has a medium heel and platform, which makes the shoe very comfortable. Other features include patent leather upper, synthetic lining and sole.
What to wear with this shining red open toe pump?
Tip 1: Do you love yellow dresses, if yes; this cool shiny pump will look good on a yellow dress. All types of yellow dresses will match with this shoe, because it has a medium height. If your dress requires a belt, you can complement it with a red slim belt, and then match the outfit with a red purse.
Tip 2: I can't forget a white dress. You can team red pumps with a white dress. In general, white is a neutral color so it will match with most colors. Since the pumps are medium, you can wear a short white dress, and then complement your dress with a red slim belt and a red chain-link purse.
Note: If your dress doesn't require a belt, please don't wear one.
8. COTTON VELVET LOAFERS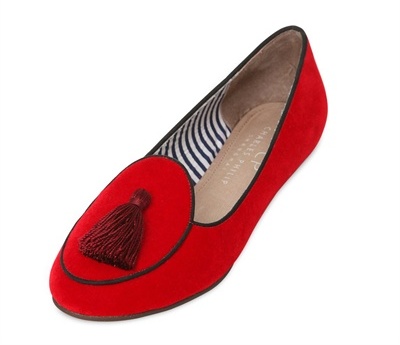 When we talk about red shoes, I don't want us to think on pumps and high heels only, let's also consider women who don't wear pumps or high heels. You might even want to wear these red loafers on weekends. Slip-on shoes are easy to wear so you can even wear them to work on Friday.
When it comes to styling, you can wear this red loafer with white chino pants. To look fashionable, try to fold the bottom of your white chinos so that you create enough space for your loafers. Then complement your white chinos with a black slim top.
You can also team them with denim blue jeans and white shorts. All you have to do is to match your trends very well so that you create a balanced color contrast.
9. Rosa rose-appliquéd leather sandals
At least we have two types of red sandals for those who love wearing red sandals. This leather sandal has a simple design, so if you don't feel comfortable with platform sandals, then opt for this t-strap Rosa rose-appliquéd leather sandal.
Women who wear long dresses, this sandal will match with such dresses, in this case, let's opt for a printed red / gold and blue long dress, let the dress go below the knees by 2 inches, and then complement your trend with a gold purse.
10. Taylor Swift 'RED' Champion Sneaker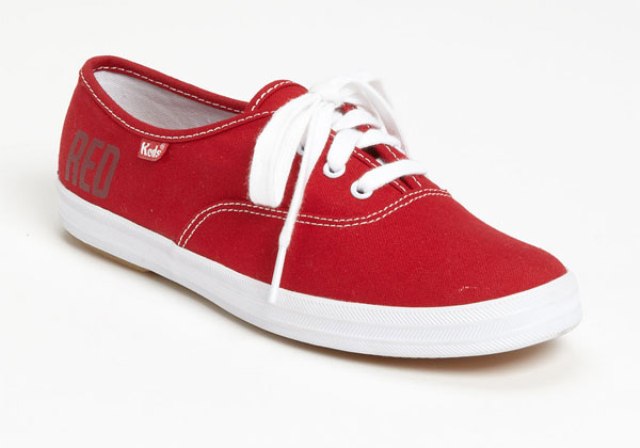 If you want to go for a vacation or a weekend gateway, you should pack these comfortable red keds with you. Have you ever wondered why many women on vacation wear keds, it is because these shoes are too comfortable and easy to wear. Taylor Swift calls them champion sneakers. If you think I'm just bluffing, try then out and give us a feed back. They feature canvas upper, textile lining and a rubber sole.
What to wear with red Keds for women?
Tip 1: Wear red kids with short denim jeans. To add value to this trend, you can complement your distressed denim shorts with a white long sleeved shirt. To look smart, tuck in the shirt with your shorts, leave the last two – three buttons of the shirt open, and then fold the sleeves of the shirt to look casual and smart.
Tip 2: Wear red kids with dark denim blue skinny jeans. Team your skinny jeans with a black and white horizontal strip long sleeved t-shirt. Then accessorize with black round sunglasses and complement the red keds with red lips.
Tip 3: How about teaming them with white skinny jeans. This is one of the best ways of wearing red keds. You can wear red/white stripped t-shirt with your white skinny jeans. If the jeans are too long, fold them just above the ankle.
Tip 4: Do you love wearing floral skirts with keds, if yes, opt for a short red/white and green floral skirt. Complement the skirt with a plain white top.
SHOPPING LINKS:
Shoe 1:-

bit.ly/11SCcMR

Shoe 2:-

bit.ly/12Sjc6n

Shoe 3:-

bit.ly/11sJZEE

Shoe 4:-

bit.ly/11DFpjL

Shoe 5:-

bit.ly/11SCNhy

Shoe 6:-

bit.ly/16mENlN

Shoe 7:-

bit.ly/19bpqlo

Shoe 8:-

bit.ly/130fwki

Shoe 9:-

bit.ly/14OAGzK

Shoe 10:-

bit.ly/19Zqzf8
WHAT IS YOUR OPINION?
Feel free to ask a question or leave your comments and thoughts below…