Brown shoes for women look trendy in style, but matching them with other colors might be stressful. Brown is a man's favorite color when it comes to shoes, yet it is another cool difficult to match color for women. It is very easy to clash trends when it comes to these brown shoes, brown shoes are expensive and they look luxurious compared to black shoes.
But you should always avoid synthetic brown shoes, because they fade-out badly, always opt for pure upper leather brown shoes. So, despite of their color, these shoes also differ in style, some are boots, flats, pumps, high heel sandals, oxfords or loafers. As you can see, this difference in style will also determine what to wear with each style.
Advertisements
GUIDE TO WHAT TO WEAR WITH BROWN SHOES:
Advertisements
Tip 1: Complement them with natural colors. A good example is green / yellow. These two colors are classified as Mother Nature colors because most plants have brown, green and yellow flowers. So, if you're totally confused on what to match with your brown shoes, please go natural.
Tip 2: Opt for patterns. Clothes with prints / patterns which match with brown can be a good choice. For example, you can wear a navy blue / white cross stripped dress with your brown wedges. The patterns have to be simple.
Advertisements
Tip 3: Go for primary colors. A good example of such colors is "white". You can wear a white dress / pant with brown shoes. Also black will look good with brown. Don't color block with brown shoes. However, many people wonder if black can match well with brown. The fact is that when it comes to female fashion trends, these two colors match well. For example, you can wear a short pleated black dress with brown sandals in position (3), if your dress requires you to wear a belt, opt for a slim brown leather belt.
Today on Olixe, I have compiled a list of the best brown shoes for women. However, not every top rated brown shoe has been listed here, but i have managed to pull different types of brown shoes so that each of you opts for at least one pair. Our test for brown shoes is more likely to be different from yours, but you will definitely find your choice on this list.
NOTE: Links to stores where you can buy these Brown Shoes for Women are listed at the end of this post.
AFFORDABLE BROWN SHOES FOR WOMEN:
Fashion women's ankle boots half knee Brown – $78.00
Brown Jessica Simpson Women's Demeter Flat Sandal With Jewels – $50.00
Brown Lace up Suede Ankle Boots Flat Winter Autumn Boots – $27.99
Nine West Women's Flax Pump – $20.70
LifeStride Women's Parigi Pump – $18.29
10 BEST BROWN SHOES FOR WOMEN:
A combination of elegance and style has been put into this  sandal. Even though you don't love brown shoes, you will defiantly fall in love with this brown high heel sandal. The elegant front straps means this shoe scores all the marks on this list of the best brown shoes for women.
Now, let's get down to the basics of what to wear with this brown Steve Madden Women's Santi Dress Sandal:
Tip 1: Judging from its formal style, you can wear these brown strap front sandals to work, so the best way to wear them is by teaming them with black stretch boot cut pants, these pants have a wide bottom, so they will drape well on the sandals. Then match your black stretching pants with a slim fit jersey long sleeved top. To add value to your style, you can match the brown sandals with a brown leather shoulder bag. Accessorizing might be a great idea, opt for white beaded bracelet.
Tip 2: If you want to wear them with a dress, I suggest you opt for a green or black dress. If this dress requires you to wear a belt over-it, then opt for a brown belt, and then match the shoes with a brown cross body bag / clutch. If you want to accessorize the trend, i suggest you opt for brown stone Chandelier earrings.
Tip 3: Try the casual chick style. Wear these brown high heel sandals with hot pink tennis shorts, then complement the pink shorts with a white light blouse which has two front pockets and button-up style, to look stylish, leave the last three buttons open so that your gold chain necklace gets enough attention. Finish this outfit with a brown shoulder bag and gold pleated bracelets.
Tip 4: How about wearing them in a classic casual way. I guess most of you would opt for this style. Simply wear flash denim super skinny jeans with these brown high heel sandals, and then match the jeans with a white sleeveless v-neck blouse. To add some class to this trend, you will need to complement the white blouse with a yellow / white check frayed boucle jacket, and then accessorize the outfit with a yellow / brown strand beaded necklace and a brown cut satchel handbag. You can wear a slim brown belt over the yellow jacket.
Tip 5: Don't run out of options, if you don't have any of the above outfits, pull out those white wide leg trousers and match them with a leopard print sleeveless collar top, then match your outfit with a brown tote bag. Remember to wear a brown leather jeans belt with your white pants.
Tip 6: For those who love floral / printed dress, I have not forgotten about you. You can team these brown sandals with a fancy pullover sleeveless floral dress which has both teal blue & brown prints. Accessorize the trend with blue / brown linear drop earrings, gold & blue bracelets and a brown large flap shoulder bag.
Believe me or not, every woman needs a pair of flats, these brown flats designed by Yosi Samra have a classic style, you can wear them to work or wear them during the weekend. They feature a bow design on the front and a round toe, so your feet will get no pressure. If you have a very busy day which requires you to move up and down, please fore-go those lovely pumps and go for these flat brown shoes.
What to wear with this brown flat?
Tip 1: Go Green. You can wear them with army green stretching skinny jeans, and then match the jeans with an aqua blue belted Kaftan top. Now you can complement the outfit with a leopard print classic satchel handbag. If you love accessorizing, I suggest you opt for gold-tone faux pearl earrings.
Tip 2: Play it cool by teaming these brown flats with black skinny jeans, match the jeans with a white quilted long sleeved top, and then complement the flats with a brown satchel-tribe bag. For those who love wearing flats with short dresses or maxi dress, you can match this brown flat with a yellow or green dress.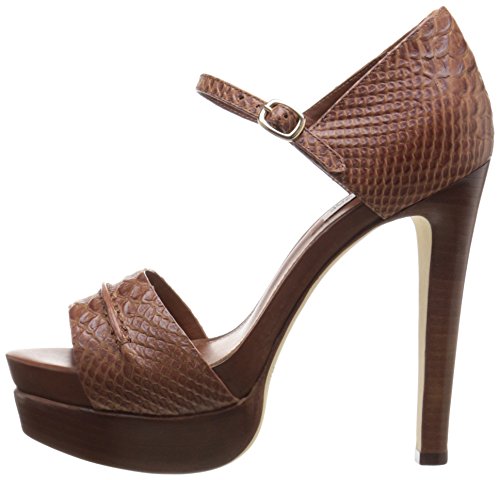 Women who love platform sandals, this is a great brown sandal you can wear to work, date, or party. You can rock this weekend in these platform sandals with shorts and a blazer. This Rachel Zoe Women's Halle Dress Sandal features leather upper, buckle strap with one elegant strap. You can team them with more than one outfit;
Let's see what you can wear with these brown platform sandals.
Tip 1: Dress like a celebrity. Simply wear a brown leopard print high waist short with a white laidback chiffon top, then complement the top with a slim fit one button yellow blazer, accessorize with a black / gold fan necklace and black Cleopatra stud earrings. Opt for a brown top handle bag.
Tip 2: Dress like an urban / town chic: Many times I see young girls copying fashion trends they see on fashion television, up-city girls dress in a very trendy manner, so to look like them, you will need to wear these brown platform pumps with a printed trouser, make sure these pants have black / yellow / red / white prints, because those are the colors which match with brown shoes. Now you can wear crochet yellow shell top, complement the yellow top with an aqua blue knit cardigan and an aqua blue handbag. Accessorize with black beaded bracelet and black round sunglasses.
Tip 3: Now let's try matching these platform pumps with shorts. I know you might be wondering how you will look when you go for this trend, hehehe…I promise, you will look fabulous. Simply wear shiny cooper brown shorts with an ivory ruffled back sleeveless blouse, then match the blouse with a Toga flower knit cardigan, if you love sunglasses, you will go for the cat-eye type. Other accessories like bracelet / necklace can be gold.
These brown flat knee high boots with a wedge style are too comfortable and easy to wear. Ladies who always want to wear boots during working days or on weekends will love this Brown winter haze boot. You can team these brown flat knee high boots with denim blue skinny jeans, and then match the jeans with a blue sapphire sleeveless top and a brown leather jacket. To add some style on this trend, you can opt for check brown handbag and black over-sized sunglasses. It's a great boot for weekends. Some times I see ladies wearing such boots with short dress, but please don't wear them with maxi dresses or maxi skirts; you will hide the beauty of the boots.
You can wear this thin pointed brown pump to work; it has this classy look which matchs with trousers, suits, pencil skirts and other formal outfits. The pump feature leather sole and a 105 mm heel, so if you're comfortable with a heel of that height, you might love the shoe. When it comes to colors, you can match it with black or white trousers. These two neutral colors will match with this coffee brown pump.
Simply the right brown sandals for this weekend, you can wear them with various casual trends and look smart. They feature a platform style, hand stitched detail, leather upper and an ankle strap buckle.
Styling Tips:
Tip 1: You can wear these brown high heel sandals with flared denim blue jeans, then complement the jeans with a white v-neck top and a brown leather jean belt.
Tip 2: For those who love white / ivory lace dresses, this brown platform sandal will match with an ivory lace dress, accessorize with a brown exotic tote bag and gold pearl earrings will be a great idea.
Tip 3: How about teaming them with khaki straight pants and a brown ethnic top. Complement your trend with a tan brogue messenger bag and an ivory beaded necklace.
All busy ladies will tell you that they prefer short pumps to pointed high heel pumps. These woven detail brown pointed toe pump will give you the opportunity of doing more with less energy at work. You can wear this brown short pump in various ways.
For example:
Tip 1: Wear them with a brown tweed pencil skirt, and then match the skirt with a white metal embellished chiffon blouse. Accessorize with a gold straw clutch and golden rain leaf earrings. This is a great fashion trend for working class ladies.
Tip 2: You can also match them with Hampton khaki pants; these pants have a straight fit so you will look elegant in this trend. Simply match the outfit with a belted orange kaftan top, and then complement the trend with a brown animal skin handbag. You can accessorize with handcrafted wood brown sunglasses. If you fail to get an orange brown belted top, you can opt for a black sleeveless top.
Tip 3: Try to match them with a green front wrap short dress. Match the green dress with a blue open front blazer and a brown criss cross clutch. You can accessorize the trend with blue beaded necklace. This is a cool trend for women who love color blocking. You don't have to worry about this trend, without doubt , brown matches with green.
This snake print short pump looks fabulous, though they come at a high price compared to your normal leather short pumps. You can wear this brown snake printed pump with black wide leg trousers, complement the black trousers with a tan brown leather belt and a white long sleeved formal top.
Wedge sandals look better in brown color than black or any other color. This Bed Stu Women's Petra Wedge Sandal features an open toe front, a buckle strap to ensure that the sandals fit you well and a platform wooden sole. You can match this brown wedge sandal with various casual outfits.
For example;
TIP 1: You can wear them with damaged denim blue boyfriend jeans. The best way of looking fashionable in this trend is by folding the bottom of the jeans above the ankle so that these wedges get enough space and attention they deserve. You can then complement your damaged jeans with a white / black horizontal stripe jersey top, brown looped belt and a denim beach vest. If you want to accessories this trend, I suggest you opt for a brown leather bracelet and a brown tote bag.
Tip 2: Try to wear these brown platform wedge sandals with a navy-blue barbet belted dress, this type of dress looks more like a high low dress on the front , it also has pleats and it's short but raised on the front. Wear a brown slim belt over the navy dress, this will complement the wedges. To accessories, you can opt for ivory earrings and ivory beaded necklace.
Tip 3: How about mixing them with a classic outfit. In this case, you can wear white linen wide leg trousers, and then match your white linen with an aqua color blue sleeveless blouse. A brown handbag will complement the wedges, then accessorize with aqua blue dust wire earrings.
Judging from their formal / casual style, you can team these brown leather Chloe Sandals with a folk quilt dress, if you can get this dress, you can opt for a white / yellow or green above the knees belted short dress. These brown sandals feature a cage strap style which makes them unique. You can complement them with a yellow tote bag.
SELECTED IDEA: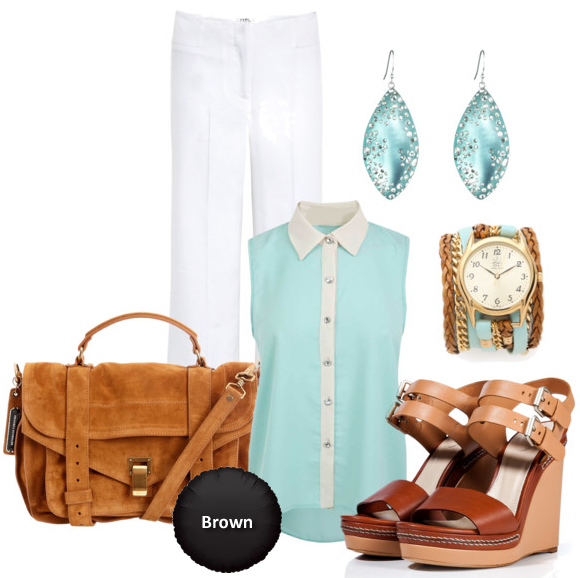 WHAT IS YOUR OPINION?
Feel free to ask a question or leave your comments and thoughts below…