TRENDS TO WEAR WITH BLUE SHOES:
We all know that women have this wired obsession about shoes and one of their favorite colors is blue. It is very rare to bump into a lady's closet and fail to find a blue shoe. I personally like women who wear blue; it does not matter if it's a blouse, skinny jeans, pants, dress or skirt. However, this blue color differs in style, for example we have electric blue, sky-blue, dark blue, navy blue, and aqua blue.
So this difference in color prints will also determine what to wear with that particular blue shoe. The other important thing to note is that, women have various types of blue shoes and these include pointed pumps, platform pumps, medium heel pumps, high heel sandals, keds, flats or ballet flats and so much more. All these types of blue shoes have their own way of styling, so always know what to match with each type of blue shoe.
GUIDE TO WHAT TO WHAT TO WEAR WITH BLUE SHOES:
Since blue is a secondary color, you will not have so many options of matching it with most colors, so lets get down to the basics of choosing and matching blue shoes with other fashion trends.
Go Neutral: Since blue is a secondary color, complementing it with neutral colors like white / black will be a good idea. However, don't wear navy blue shoes with black outfits. In this case, you can wear an electric blue or aqua blue shoes.
Be Romantic: Blue is a romantic color, so if you plan to go for a date, i suggest you opt for an electric blue shoe and a yellow / white dress.
Try the Chic Style: If you're below 40 years, you still have a chance to dress like an 18 – 20 yr old. So you can wear blue platform pumps with studded black shorts and black tights then complement the trend with a black corset top.
Go Color Blocking: Confident women will always opt for this style. Match bright colors like Yellow with your blue shoes.
Be free and go for jeans. You can match blue loafers or keds with skinny jeans , folding the bottom of your jeans will add some value on your looks.
Advertisements
Today on Olixe, I have compiled a list of the best blue shoes every woman would love to wear. I know my test for shoes is a bit different from yours, but I'm sure you will find a shoe which fits your test. I have also included tips on what to wear with each blue shoe.
Advertisements
NOTE: Links to stores where you can buy these Blue Shoes for Women are listed at the end of this post.
10 BEST BLUE SHOES FOR WOMEN:
Advertisements
1. Ralph Lauren – Rosalia Soft Patent Sandal

AFFORDABLE BLUE SHOES FOR WOMEN:
Fashion is all about looking good and feeling comfortable when you wear some thing trendy. I always see women who make a mistake of wearing expensive uncomfortable shoes, this makes no sense but I guess that is the price of looking good! But their is something cool with these open toe high heel blue sandals, (1) they look fabulous, (2) your toes will get no pressure, so you cam wear them for a long period without feeling any pressure, (3) you can wear them with more than one fashion trend. Please, don't get me wrong, I also love pumps and pointed toe heels, but when it comes to rating, i would suggest open toe high heels, the comfort and style of a shoe matters a-lot.
These Ralph Lauren Women's Rosalia Soft Patent blue leather sandals feature a 3 inch heel and blends natural cork with a glossy upper which gives the shoes a contemporary look, open toe style for relaxation, blue front strap, ankle strap to ensure that the sandals fit you well, and a 3 inch heel which makes them cool.
What to wear with these blue high heel open toe sandals:
Tip 1: If you want to wear these shoes to work, party or date, you can team them with a printed sleeved bandage dress. Make sure that this dress has black/ blue / white prints, then complement your cool trend with a black leather clutch and black accessories.
Tip 2: You can decide to go blue by wearing a plain Caribbean blue trista dress. This type of dress has long sleeves and it looks good on women with slim waist and moderate hips. You can complement this trend with a snake print purse / clutch bag, and then accessorize with blue feather earrings.
Tip 3: How about paring them with white skinny jeans. Blue looks good when matched with white outfits, so you will look fashionable if you wear these blue sandals with white skinny jeans. Match the jeans with a black / blue / white top, and then complement the trend with a gold yellow handbag.
2. Sperry Top-Sider Women's Bahama 2-Eye Lace-Up


These beautiful shoes are highly rated on Amazon, they are very affordable and come in a wide variety of colors. After a long stressful week, you need to get rid of those high heels and pumps and opt for these blue boat shoes. Without doubt, you will love these because the comfort and style which comes with them will make you feel comfortable and relaxed. During hot days, you need to wear light and cool shoes, the type of shoes which will keep your feet cool. Women who have blisters and foot problems which are caused by wearing tight pumps, I suggest you go for these. They feature canvas upper, and Non-marking outsole with Wave-siping for the ultimate wet/dry traction.
How to wear these blue Sperry Top-Sider shoes?
Tip 1: Team them with a floral short dress. I guess you have always seen women who wear short floral dresses with sneakers, now this is type of sneaker they opt for. To look nice, you will need to go for a blue / pink / white floral sleeveless dress.
Tip 2: You can wear these blue keds / sneakers with a white denim dress or white shorts. Just keep the style simple by accessorizing with a leather bracelet and a blue cross shoulder bag.
Tip 3: If you love red, then these blue keds will match with red high waist shorts. In this case, you can wear a blue/white polka dot sleeveless top, button-up the top and tuck it well so that you look smart. For accessories, you can opt for black round sunglasses.
Tip 4: Trendy chicks, you can also wear them with a floral short skirt. To look fashionable, opt for a short skirt which has blue / red / black prints, and then wear a red plain top to match with the red prints in the skirt and a blue sweater over the red top to match with the blue keds. Complement the trend with black tights and a red chain leather shoulder bag.
3. Breckelle's MARISA-21 Basic Classic Pointed Toe Platform High Heel Stiletto Party Pump


The sky is the limit when it comes to these blue Pointed Toe Platform High Heel Stiletto Party Pump. You gotta love the style of this shoe. The reviews on Amazon recommend to buy a half size lower, so if you normally wear a 9 you should by 8.5 size. This pump can match with both formal and casual trends. It features a pointed toe and comes in a wide range of trendy bold colors. You can wear them to work, date or party. So, let's see what you can wear with these navy blue pumps.
Tip 1: Try them out with blue print floral pants. To look stylish, you can wear a floral pant with blue / white / black prints, and then match the pants with an electric blue top and a blue / gold gradient leather clutch. Then complement the trend with a black sequined jacket.
Tip 2: If you love white, then you can match this navy blue pointed pump with a white dress. If your dress requires you to wear a belt, then opt for a navy suede blue slim belt. To add value to this trend, you can accessorize with blue earrings.
Tip 3: Go bright by wearing these blue pumps with a yellow dress or pants. Both yellow and blue complement each other, so you will look beautiful in this trend. Match the shoe with a blue handbag and blue accessories. You can also wear them with a yellow pleated skirt, match the skirt with a pink collar top and a blue blazer, then finalize with a pink leather handbag.
Tip 4: How about going blue through out. You have to be very creative when it comes to fashion. So, you can wear a check blue / black brocade trouser and a strapless navy blue satin top, accessorize with a blue watch and a navy suede clutch.
4. SERGIO ROSSI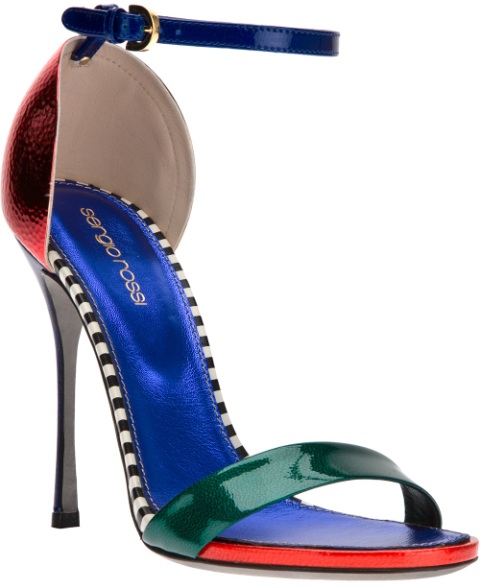 Women who love to dress and impress, this is the type of shoe you will need to wear and get all the attention you need. You can wear it with pants, dress, and skinny jeans. Since it has mixed colors, you will have more than one option of matching it with other trends. This SERGIO ROSSI'Flashy' sandals feature a glittering green front strap, multi-colored upper leather, a blue ankle strap which has a gold-tone side buckle. It is a very lovely sandal for parties. I would not recommend you to wear it to work because it's too flamboyant.
What to wear with this Multi-colored blue high heel sandal:
Tip 1: Play it cool by teaming them with white wide leg trousers. The wide bottom of these trousers will drape well on these sandals, so you can match the trend with an electric blue top and a stripped blue / white shoulder bag. To accessorize, I suggest you opt for white drop earrings and a white gold bungle.
Tip 2: Try the GOSSIP GIRLS STYLE. Many young girls love to dress like gossip girls, so you can pull this multi-colored sandal with electric blue skinny Samantha pants, then match the pants with a white sleeveless top and a gold sequined jacket. When it comes to accessories, you can opt for a gold / blue bangle.
5. New Look Immense Blue Mega Crossover Heeled Wedges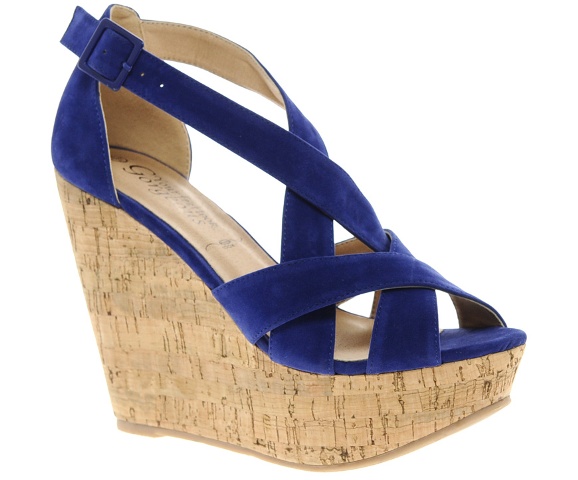 I know of some ladies who prefer wedges to high heels or platform pumps. This is because, wedges have a flat sole, so you can wear them for longer hours without experiencing any trouble. This peep toe pointed wedge can match well with a yellow pleated short dress, white or red shorts and a white short casual dress. I also see some girls wearing them with UNION JACK printed denim shorts.
6. KALAN SUEDE PLATFORM PUMPS WITH PERFORATED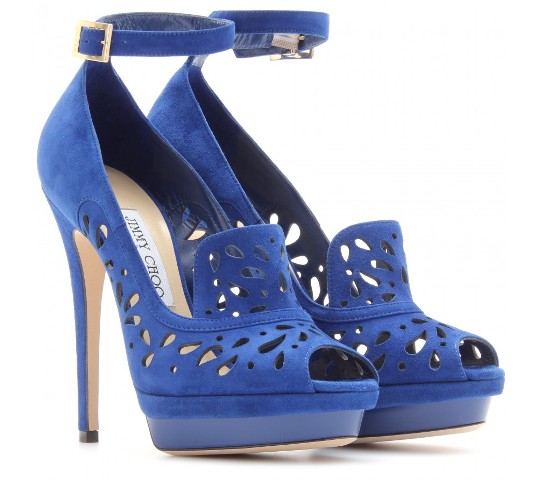 Platform pumps lovers, what do you think about this blue suede pump. It has a very unique perforated design which will make you unique and fashionable. The leather insole and suede leather sole makes them durable. You don't have to worry about fitting issues; simply use the ankle strap buckle.
When it comes to styling these blue pumps, you can wear them with black pants or a simple floral sleeveless dress. Complement them with a cream belt / clutch.
7. SATIN LOAFERS WITH PLEATED BOW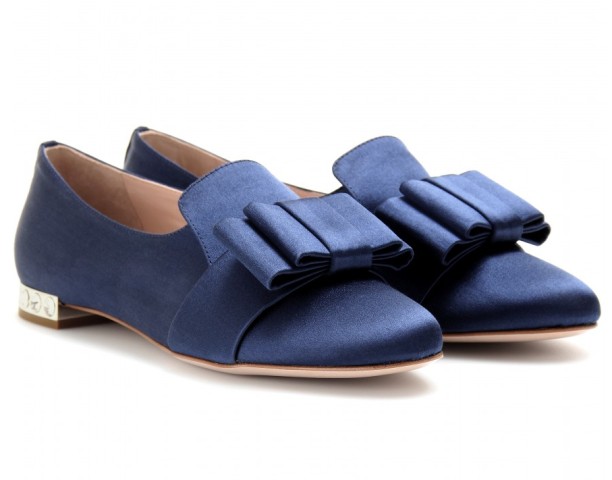 It is not a must that every woman should wear pumps or high heels to look fashionable, actually some women look smart in flats and loafers. If you're tall, you might find high heels or platform pumps very uncomfortable, so opting for these blue loafers will be a great idea. They feature a pleated bow front which makes them unique. If you want to wear these blue loafers to work, you can team them with gray skinny jeans, and then match your jeans with a white floral top and a pink blazer.
8. LE SILLA – Closed toe Platform Pumps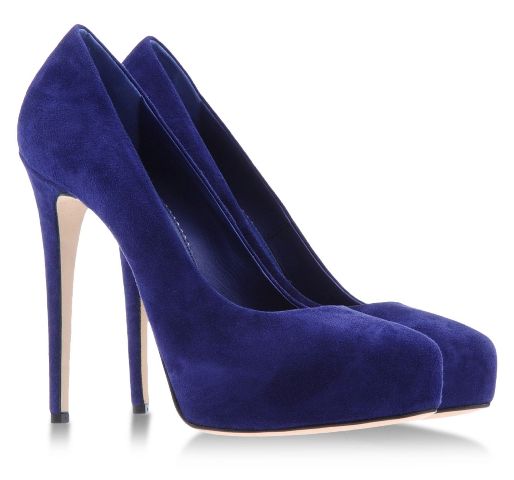 Hidden platform pumps look good on casual outfits. You can wear this blue closed toe pump with a yellow twisted sleeveless dress. Then complement your trend with a blue clutch and blue accessories. Yellow is a bright color, so it will match with this dark blue navy pump.
9. Manolo Blahnik BB Satin 50mm Pump, Cobalt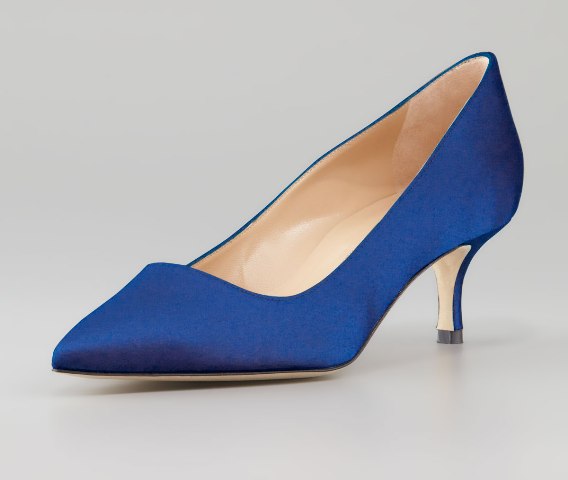 Short pumps are easy to wear. Many busy women who don't want to miss-out on the pump fashion trend opt for these short pumps. They have the same shape like high heel pumps, but they have a short heel of about 50mm, quite stable on the ground, so you will move without having any trouble. It also features a pointed toe and leather insole. You can wear this blue short pump with black dress. Make sure the dress goes above the knees; don't wear short pumps with maxi or long dresses.
10. GIANVITO ROSSI – pointed pump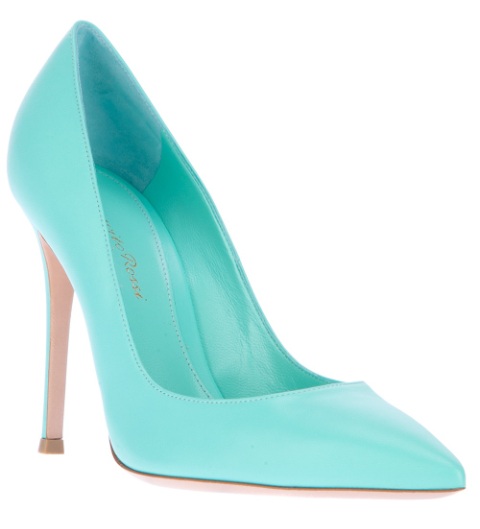 Aqua blue is a very lovely color, but very few women wear these aqua blue pointed pumps because the color is not easy to match with other trends. You will need special trends for this aqua blue pointed pump. The shoe features aqua blue nubuck leather, pointed closed toe and a high stiletto heel.
What to wear with this Aqua Blue Pointed Pump:
Tip 1: Team these pumps with pink high waist shorts. This is a formal / casual way of wearing shorts. Women who wear shorts with pumps look fashionable. In this case, you can complement the pink shorts with flora print silk chiffon blouse which has pink / light brown / black prints. Then conclude the trend with a pink leather handbag.
Tip 2: Match them with black. Since aqua blue is bright, it will look nice when matched with black outfits. In this case, you can wear black leather shorts with a white deep neck top and a white single button blazer. Then accessorize with black round sunglasses, black shoulder bad and a black fedora hat with an aqua blue ribbon.
Tip 3: Try color blocking. If you're comfortable with bright colors, you can wear an aqua blue top with a pleated flared yellow skirt, and then match this trend with this aqua blue pointed pump. Pink lipstick and a pink slim belt will add value to this trend.
SHOPPING LINKS
Shoe Type 1:-

bit.ly/1348xFJ

Shoe Type 2:-

bit.ly/11FP7oY

Shoe Type 3:-

bit.ly/19zRHyT

Shoe Type 4:-

bit.ly/14VYYYy

Shoe Type 5:-

bit.ly/148azTr

Shoe Type 6:-

bit.ly/121IE49

Shoe Type 7:-

bit.ly/14c1tr5

Shoe Type 8:-

bit.ly/121IJVy

Shoe Type 9:-

bit.ly/1abUP6P

Shoe Type 10:-

bit.ly/12hWvqq
WHAT IS YOUR OPINION?
Feel free to ask a question or leave your comments and thoughts below…