16 STYLISH UPDOS FOR BLACK WOMEN
Updos for black women
INTRODUCTION:
You know what they say……Black is beautiful! Well sometimes its not the case though because sincerely speaking you will agree with me that when you move through the streets of New York, you will surely go like "what!" because of the weird and wonderful hairstyles some black ladies are wearing.
Anyhow, one thing for sure is that our african hair is difficult to work with and we don't always like to expose it to treatment chemicals because they might cause damage to the hair. If you have noticed, a black woman with her hair up-dos, braids, weaves and wigs are like Timon and Pumba!!
I know how we also like our traditional hair styles like cornrows and twists among others for short hair. There are other popular styles that we cant seem to do away with like old fashioned /pixie or micro braids which are somewhat still trendy even today. I know some of us can't even tell the difference but they are actually different because pixie braids are smaller compared to the micro ones.
Advertisements
I have seen most black ladies opting for box braids and kinky hairdos. These are 3 or 4 strand braids that are styled to make a shape of a box while kinky twists have to be fashioned in a way that two parts of the hair is held together into tight spirals then plaited up to the end.
Beautiful Updos for Black Women
Advertisements
All in all, with long, short or medium hair you can always find suitable hair styles as we are going to be explaining to you more in pictorials that continue below.
HOW TO STYLE:
With all the activities going on and the kind of busy world we live in today, we don't have all the time to go for hair styling all the time. So opting for an up-do will do best. Look at the lady in the picture above, maybe she has short hair or long hair but all in all she did not go wrong with a up head short thick wig which covers up to under the ears. To pull off that great look we  take you through a series of steps that might be of great help.
Hair Pinning. For long hairs you will need to pin the hair up together and twist across the piece behind your head to allow the wig to fit well. Use clips to hold the roll together so that the wig can look stylish. Note that you have to chose the best size that will fit well according to your face shape. For short hair you will just need to comb the hair and clip it to the crown or even place into the a bun at the head base.
Clip any extra bangs. If you have extra fringes you might have to pin them up  into a small hair band that is under your wig just to feel comfortable and holding the hair together.
Wear the wig cap. You can now put up the wig on top of the head and pull out the net and fix it well up to the neck then style the wig in your favorite style.
Accessorize. For extra coverage you can add more to your look for example a head band wound look bad with matching jewelry that will match up your shoes.
Advertisements
FACE SHAPE:
Long faces always look cool with wigs though some times you have to consider the shape of your chin to measure the length of the wig. Example of the picture above, she had to get an head up long wig to math up her face shape covering the forehead with a side ban.
HOW TO CARE:
These wigs can look  feisty some times, if you don't trim it and blush it more often. Always use a pair of scissors to trim off the hairs that are extending out of the wig and brash is before keeping it. For thick wavy short hair wig like this one in the photo will look even great trimmed and you can always apply wavy creams to bring out the great look.
Updos for black women for curly
HOW TO STYLE:
Talk about curly and beautiful! with this look am telling you you will go places. Curly hair can go almost on any occasion be it office or wedding ceremony mention it, it all depends on how you accessorize. If you decide to hold it at the back you can use designer folders that will match up your hair to bring out exactly the look you have been longing for.  let me do easy for you. Below are steps on how you can get your straight hair curly and shiny as ever.
Give your hair a through wash. Make sure you first wash your hair with half the conditioner you have been using because we don't want to apply a lot because this might affect our treatments. Then you can give it a thorough blow drying before applying any thing else.
Add Mousse. tale a hand full of mousse and add it into the entire head from the roots to the tip and use a towel to squeeze and scrunch the tip down the roots. Make sure you don't rub the scalp.
Apply Thickening spray. I always prefer root lifter but thickening spray does it well for most of the hair types. Apply it up to the roots too, you can use a  root lifter.
Blow dry. Leave the hair down and blow dry it with the help of your fingers to lift it up in the sides  and use a brush to straighten it when its dry and divide the hair into sections and curl it section by section according to how big you want them.
Spray. Once all is done take a blow dryer and dry the hair for about 10  to 20 minutes and then spray your hair with the spray once again then let the curls cool completely and then you can hold them or style them just like in the picture.
FACE SHAPE:
Square faces look great with the curled short hair but if you have long hair don't hesitate to letting it flow down your shoulders because it will look just fantastic.
HOW TO CARE:
Taking care for curled hair needs patience and a bit of attention because you have to net it before you go to bed and it has to be moisturized more often to keep the curls in shape. Keep oiling the scalp just to keep the roots healthy.
Updos for black women with fine hair
HOW TO STYLE:
Talk about simple looks and you will imagine the picture above in your mind! There are quite lots of different types of hair that include black braided hairstyles, cornrows cute braided hairstyles, and cute braids to mention but a few. If you like sophisticated  hairdos or short hair type, they will create a cool natural look that is very fashionable.
For natural hair you can visit your saloon and get black hair extensions that will look great braided into your hair. Remember, not only will braided hair look great on natural hair they will help your hair grow even faster.
FACE SHAPE:
This kind of hair works well on her long oval face with a wide forehead. It adds more to the upper head leaving a great show off of the facial contours and reveals her beautiful face shape.
HOW TO CARE:
Natural hair always looks great moisturized, so one thing that should never miss in your toilet bag is your hair oil and spray. Keep it out of dust to avoid over washing and blow drying more often and you will notice a great change and growth.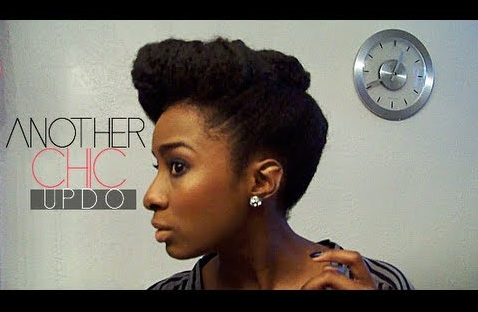 Updos for black women for girls
HOW TO STYLE:
You can call this natural Up-do an 'eighties' looking  hair style but one thing for is for sure, that style pulls off the best look for a casual day. For natural hair it will pull off the best look when curled and moisturized for great naturalness and that shiny touch. If you have long hair creating such a look takes just a snap of a finger. Let me take you through some of the simple and easy ways on how you can shape your natural hair for such looks.
Wash and condition your hair before styling it. Take about 20 to 30 minutes relaxing it so that it clearly drys and always make sure you avoid shampoos and conditioners that contain parabens or phosphates and even those with concentrated petrochemicals because they will spoil your natural hair. Avoid products with sodium  laureth sulfate  because its just a detergent that will strip moisture from your hair.
Make sure you brush the hair straight as you condition it, and while washing reach up to the root and the scalp but not the strands. To combat the growth of dandruff, wipe the hair and scalp with  astringent soaked cotton or towel but not a comb because it might cause breakage.
Now you can use a comb to separate the hair from the back into three strands and plait from the back to the front. Then tuck the front hair inside and use a comb to give the front a nice look. You can use a spray after to give the hair a firm grip.
FACE SHAPE:
This shape is the in-thing for ladies with all sorts of faces because you can decide to pull the hair up leaving the side to be plain if you have a long face, but even round faces will look cool with it.
HOW TO CARE:
I always tell my fellow ladies that caring for your natural hair is as simple as caring for your clothes or shoes or jewelry, its just takes one to take some time at least every weekend to clean them up and give them a brush and a few washes here and there. Depending on ones hair type, only shampoos, hair conditioners and hair sprays should be used. Its always advisable to use specific products that you are sure about.
Updos for black women for long hair styles
HOW TO STYLE:
Life can be so simple for some people with beautiful hair you know, but even if you do not have this kind of long hair, don't lose hope, we have your back.  You just have to stretch the hair and secure the loose hair with hair pins to a bun shape then fix it well to pull off the look you desire. For natural long hair like in the picture, let me tale you through some real simple ways to get you hands on with this kind of look.
First you have to have clean hair. Its always good and healthy to wash your natural hair with warm water so that the skin pores are opened up. you know the oils we always apply pile up on the scalp causing blockages.
Apply conditioner. You can do with a styling product like gel or Mousse. Avoid chemically produced products that may spoil your hair.
Hold the behind hair into a bun and leave the front hair to flow on the side then hold half of it and push it behind the ear. If you want a more curly look you can first apply curly spray before styling your hair.
FACE SHAPE:
You know they  always say round is sexy! and you can never escape from the fact that a lady with a round face and the right style will look sexy and so beautiful. Round faces  tend to be soft with uncommon features and lifted cheeks. Cuts that fall  below the chin will bring out the the slim appearance, I always recommend bold hairstyles in case you don't want to use bangs more often.
HOW TO CARE:
I will tell you a secret for natural hair, if you want a healthy and sexy hair style you have to avoid the chemical processed products and use organic products  that have organic ingredients. You can always find products in your local stores that are organic and naturally great for your hair, for example 100% Organic Coconut Oil is wonderful for conditioning your hair.
Updos for black women for long faces
HOW TO STYLE:
Do magic with you hair! You don't have to go for all those extensions and up-dos when you can pull off a sexy look with your African American hair. The good thing with this kind of hair is that its hard and you can do almost any style with it as long as you moisturize and oil it. I like the way she brushed her hair up to hold it on top,  lets look at how we can recreate this kind of style.
Moisturize your hair first. To pull off the curly texture that will bring out the best appearance you will need to spray your natural hair with a curling spray that with give it that soft touch before your brush it.
Comb it straight up. Its always advisable to comb up the hair straight before to remove all the entangled hairs so as to hold it up well. Then you can hold it at first with your hand so that you tie it up at a particulate angle that will bring out the shape of your face.
Tie that bang with the bun and you can use a comb or your fingers to organize the hair according to what you see in the mirror. you can never go wrong with such a great look.
FACE SHAPE:
For long faces this hair style it very fashionable today. I have noticed most of the celebrities have resorted to this kind of style. The young ones even go on to shave off the sides leaving the top hair. Others even go ahead and braid the top hair for a cooler look.
HOW TO CARE:
Natural hair needs to be kept clean and once in a while hot combed to get that straight texture. Natural black hair becomes thick when it comes in contact with water which always becomes a problem, so always have your oil ready and after a swim you can hot comb the hair and oil it for easy maintenance.
Updos for black women for oval faces
HOW TO STYLE:
Hair extensions can help those with short or bad hair quality and one thing for sure is they are doing a great job. For just a few minutes of your time you will get sorted with this kind of wavy extension. Before you do though it is always advisable to seek opinions from your hair stylist before embarking on a specific extension because the best extension is one which is the same or more like the same texture and color of your natural hair. Extensions, just like natural hair need care. You have to oil it and use natural organic products that will maintain the roots of your hair. You might have to consider products like Ultra Black Hair or Creme of Nature Line or just if you can get hold of grape seed or castor oil you will be good to go.
FACE SHAPE:
Round faces look sexy with longer hair extensions. As a hair stylist I know that a round face can look great and cool with nearly every sort of style, so count yourself lucky. Now lets consider long curly styles just like the lady in the picture, the extension is medium and reveals enough of the face just to bring out the shape of your face edges.
HOW TO CARE:
For natural hair make regular trips to visit your hair stylist for hair trims to reduce the over grown spilt hair to keep that fresh look. Then lastly make sure you keep a healthy hair routine by washing and reconditioning your hair to keep it fresh and soft and looking healthy too.
Updos for black women for round faces
Updos for black women for square faces
Updos for black women for thick hair
Updos for black women for wavy hair
Updos for black women over 40
Updos for black women with bangs
Updos for black women for wedding hair styles
Updos for black women smooth hair
Check out some other up-do wedding hair styles for African Americans which might be useful:
http://www.ehow.co.uk/list_7434053_updo-styles-african-american-women.html
A recent news story on African American hair I found interesting:
US Army ban on hairstyles including dreadlocks, cornrows prompts allegations of racial bias:http://www.dallasnews.com/news/local-news/20140404-army-ban-on-hairstyles-including-dreadlocks-cornrows-prompts-protest-of-racial-bias-petition-to-obama.ece