Slip-on shoes are easy to wear because you don't have to battle with laces. Slip-on shoes differ in style, some are boat shoes, loafers or penny loafers and espadrille slip on shoes.
They also differ in design, some are casual while others are formal. You can wear slip-on shoes with any fashion trend basing on their design. For example; formal slip-on shoes like the one in position (1) & (3) will match well with suits and formal trends, yet casual slip-on shoes like those in position (4) to (10) will match with casual trends like jeans and chinos.
PICTURES OF MEN WEARING SLIP-ON SHOES:
Advertisements
When selecting slip-on shoes, make sure you opt for fitting shoes, unlike Lace-up shoes which you can tighten using laces, these slip-on shoes will require you to wear real fitting pairs, so try them out before paying for them in a nearby shoe store, if your buying them online, be sure of the size, other wise you will need to return them back.
Advertisements
Today on OLIXE, I have compiled a list of the best slip-on shoes every man would love to buy, i know you have your own test for shoes, but at least you will not fail to find your choice on this list.
NOTE: Links to stores where you can buy these SLIP-ON shoes for men are listed at the end of this post.
Advertisements
TOP TEN SLIP-ON SHOES FOR MEN:
1. Fenice' Loafer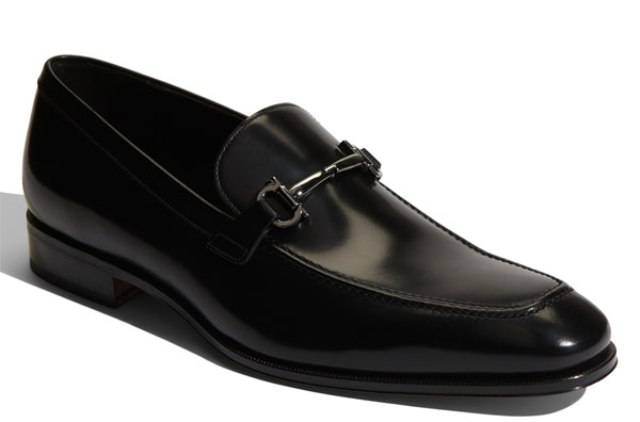 AFFORDABLE SLIP-ON SHOES FOR MEN:
Salvatore Ferragamo is a popular designer known for his classy trends. This black leather slip-on shoe is one has managed to score on the top ten slip-on shoes list. It's simplicity makes it a super career or dress shoe. This Fenice' Loafer features a slip-on style, leather upper, leather sole which adds to its quality and durability. You can wear this shoe with most formal trends.
So, let's see what you can wear with this black slip-on shoe for men?
Tip 1: Team these cool black slip-on shoes with a suit. Any types of suit will match with this trendy shoe because black is a neutral color which matches with most outfits. Complement them with a black leather belt. Remember to wear socks and a slim tie with your suit. You can also team these shoes with a formal trouser and chinos, but finish your attire with a cuff-link dress shirt and a black blazer if you want to wear one.
Tip 2: Do you wear formal jeans to work, if yes, then you can as well wear a simple fade denim straight leg jean with these slip-on shoes. To look smart, you wear a dress shirt with your jeans, tuck in the shirt and match the shoes with a smart black leather belt.
2. 'Master' Loafer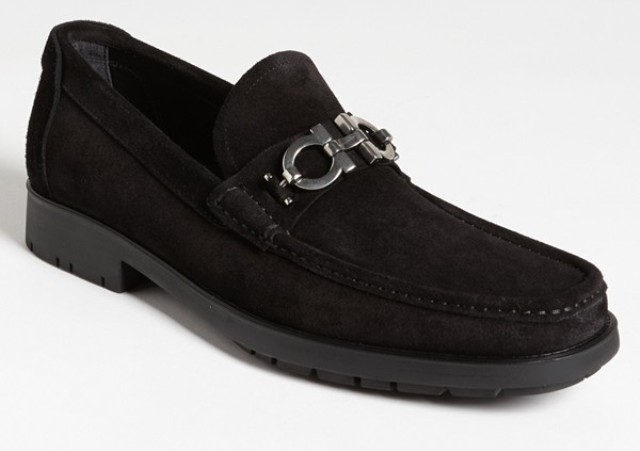 Liked by many and worn by a few, why? .Because this shoe has a high price tag. This Master' Loafer will cost you as much as $540, so I beat very few men are willing to spend all this dime on just a single pair, but it is worth the price, so if you want to make a fashion statement and impress those who see you for the first time, opt for this cool Master' slip-on loafer. It comes in a black color so you will have many options of matching it with other trends. The shoe features leather upper, rubber sole and a slip-on style.
What to wear with this black Rich matte leather Loafer / Slip-on shoe for men?
Tip 1: Let's start with a casual trend. You can team these loafers with turner shorts, you can opt for a navy blue turner short, then match it with a vertical stripped long sleeved casual shirt, tuck in the shirt with the shorts then wear a teal blue one button blazer over the shirt, leave the last three buttons of your shirt open so that you feel free and stylish. If you're so into accessorizing, you can opt for dark shade sunglasses.
Tip 2: You can as well team these slip-on shoes with straight leg jeans, just play the all trend simple by complementing your jeans with a white v-neck t-shirt.
3.


Bramante' Loafer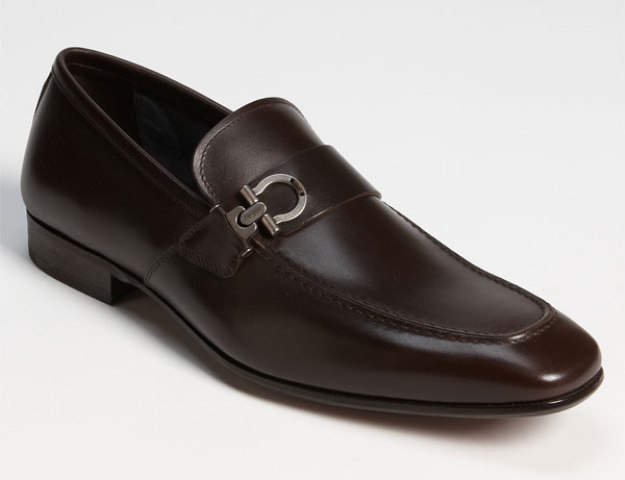 This is not black or brown, it is Tmoro / Auburn color, very rare but common when it comes to classic shoes. Still Salvatore Ferragamo is the designer of this trendy slip-on loafer; it is also a dress shoe just like shoe in position (1). You can wear it to work, job interview, business meeting and any formal occasion. The slip-on style makes them easy to wear; this style will save you the time you could have wasted in the morning tying laces. Bramante' Loafer features leather upper and leather sole.
What to wear with this Bramante' Loafer / Slip-on for men?
Tip 1:- You can team this timeless loafer shoe with a navy blue or grey suit. These two colors will match well, so you can complement any of those suits with a white / pink / stripped blue and white dress shirt. Match the shoes with a dark brown leather belt.
Tip 2:- You can also team them with formal jeans and chino pants. But you have to look formal, so you can go for check dress shirt or polo t-shirt.
4.


Keen Men's Timmons Slip-On Casual Shoe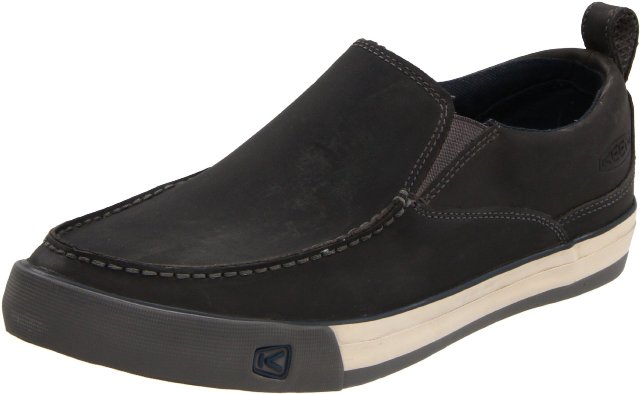 The shoe is stylish and trendy, it is more than a typical leather casual shoe, it's very comfortable on the inside and the soft rubber will make you feel like your walking on air. I know, you're comfortable with those vans, but guys, just try out this new Men's Timmons Slip-On Casual Shoe, it comes in various colors but i decided to go for this dark grey shoe because it is very easy to match with most casual trends. However, you should remember that when choosing a slip-on shoe, it has to be fitting, other wise you might be disappointed. These Men's Timmons Slip-On Casual Shoes feature a rubber sole, leather upper and a highly padded collar.
What to wear with this Men's Timmons Slip-On Casual Shoe?
Tip 1: These are casual shoes, so you will probably have to wear them with denim jeans, however, dirty damaged jeans will not look good on these shoes, opt for the simple fade jeans or those with simple damages, make sure your jeans have straight leg fitting because flared jeans have a wide bottom which can cover the shoes.
So let's do some color mixing, you wear a denim blue flash jean with a black fitting shirt or t-shirt, then complement your trend with a gray blazer.
5.


Dwight' Loafer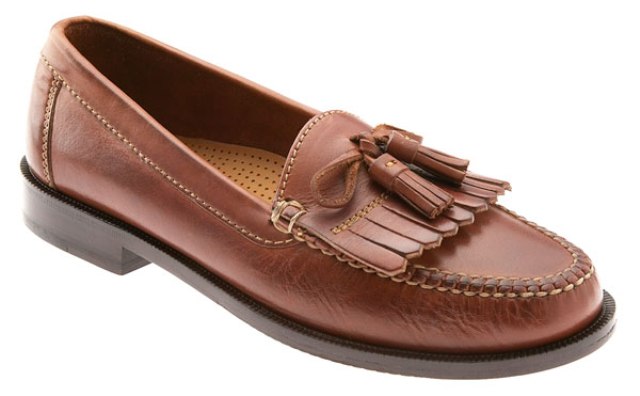 If your under 30, you might not like this shoe, because it has this old school design which might not please your age bracket, but I assure you, try to buy them for your father, he will be happy and impressed, those old folks love these Dwight loafers because during their times, this was on of the best slip-on shoe. This brown loafer features leather upper and a natural latex insole.
What to wear with this Dwight Slip-on loafer shoe for men?
Tip 1: Khaki or chino pants are my best choice when it comes to these Dwight loafers, you might decide not wear socks just in case you want to look casual, but if you want to wear them to work, then you will need to wear socks. Complementing your trend with a double breast blazer will be a good idea.
6.


Moloa' Slip-On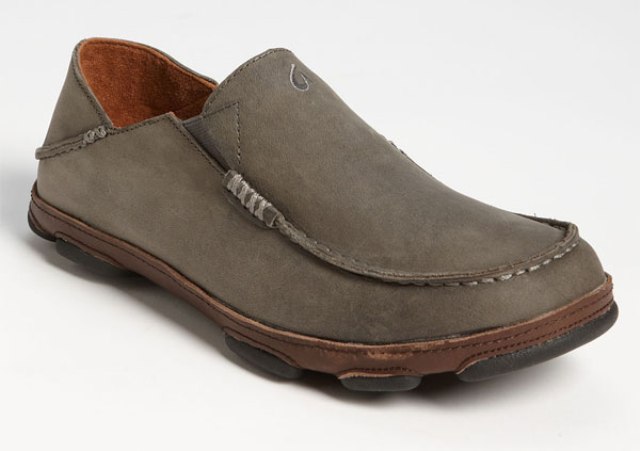 Besides being extremely comfortable and easy to wear, these Olukai 'Moloa's' Slip-ons are versatile, you can wear them the all day and feel no pressure yet you can match them with most casual outfits, so owning this Olukai 'Moloa's' Slip-on shoe should not be a mistake. Once you choose the right size, i assure you, these Olukai 'Moloa's' Slip-ons will fit perfectly. They feature soft and comfortable foot-bed cushions, water resistant leather upper, a slip-on style, gum-rubber pods which will provide you with extra traction and a rubber sole.
You can wear these 'Moloa's' Slip-ons with jeans, chino pants, khaki shorts and cargo pants.
7.


BOSS Orange 'Fullio' Espadrille Slip-On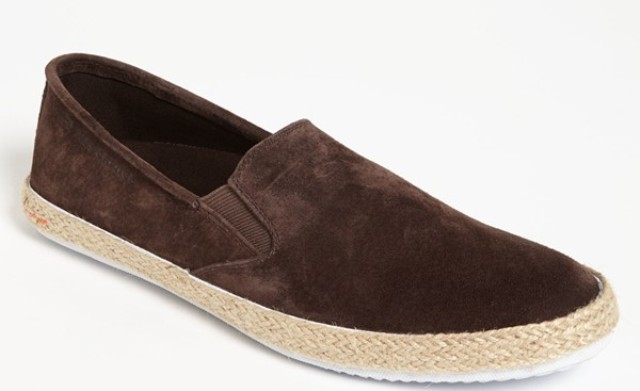 Bring that tropical charm to your wardrobe with these easy to wear slip-on shoes. Now days Espadrille Slip-On shoes for men have become popular, Espadrille shoes used to be for women, but now men have Espadrille Slip-On shoes. These shoes are very light, good for casual days. You can wear them with shorts, linen pants and jeans. This fullio Espadrille Slip-On by BOSS features a rop-wrapped sole which makes them look exotic, suede upper, textile lining and a rubber sole.
8.


Skechers Men's Golson Belton Slip-On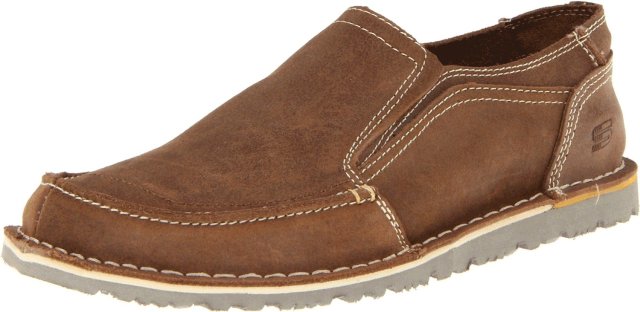 Skechers have got a good reputation when it comes to making durable comfortable casual shoes. Judging from the style of these shoes, they look durable and comfy , you can wear them with jeans, chino pants and shorts. This Skecher Men's Golson Belton Slip-On comes in three colors, black, brown and beige, so you have a wide option on which golson belton slip-on to wear, they feature oiled leather upper, rubber sole, a dual elastic side which makes it easy to wear, they also have a hand stitched and a back pull loop.
I guess you wear these skechers to work with chinos or jeans.
9.


Skechers Men's Superior Gains Slip-On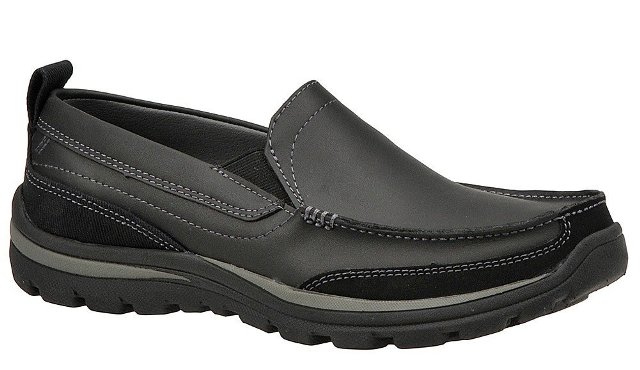 Guy's if you didn't know that Skechers is an award-winning global leader in making lifestyle walking shoes, then you're probably missing out on some comfortable trends. It is time you add a casual comfort shoe to your wardrobe, this is the type of shoe you can wear to work or on weekends and have fan with your friends without feeling any pressure on your foot. It is a versatile men's slip-on casual shoe which features durable leather upper, stitched overlay detail which makes them unique and trendy, dual side goring and a pull-on heel tab.
The truth is that, these shoes are very comfortable, you can compare them to slippers and they have a perfect fit.
Styling options:
Tip 1: Judging from their casual style, you can team them with khaki or chino pants. Try to complement them with a black leather belt. Also simple fade straight leg jeans will look good with these shoes. These shoes come in four colors, brown , black, charcoal and white, so you will have a wide option on which color to opt for.
10. Teva Men's Clifton Creek Slip-on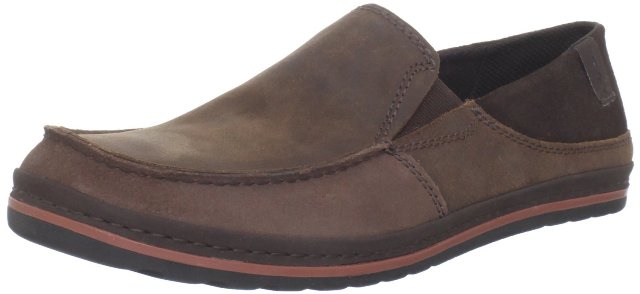 Just imagine getting a feel of a sole with a closed shoe, yes that is what I mean. This Clifton Creek Slip-on shoe looks smart and trendy, you can pair them with jeans or any other casual pant, the flat sole and slip-on style makes them fan and easy to wear. They look more like shoes, but in actual sense, you will feel like your putting on slippers, they also have a very excellent support so your foot will get no pressure. This Teva Men's Clifton Creek Slip-on shoe features leather upper, moc-toe stitching detail and a rubber sole.
You can wear them on weekends or to work with jeans and khaki pants.
SHOPPING LINKS:
(copy these links in your browser)
Shoe type 1:-

bit.ly/13Fh7sx

Shoe type 2:-

bit.ly/151eYVG

Shoe type 3:-

bit.ly/13Isgah

Shoe type 4:-

amzn.to/13Isn5V

Shoe type 5:-

bit.ly/176rri6

Shoe type 6:-

bit.ly/12qWpOT

Shoe type 7:-

bit.ly/ZMzLhm

Shoe type 8:-

amzn.to/13FhT8H

Shoe type 9:-

amzn.to/11iRv1j

Shoe type 10:-

amzn.to/13Fi3Ns
WHAT IS YOUR OPINION?
Feel free to ask a question or leave your comments and thoughts below…