Sandals differ in style, we have those with a formal design and those with a casual design, men who want to wear sandals with chinos, linen pants and trousers will opt for the formal sandals, then if you want to wear shorts, jeans or cargo pants, casual sandals will work for you. Sandals are casual shoes, so you can only wear them on weekends or out of office. Please, don't wear sandals to work, I know they're too comfortable, but if you want to feel comfortable while at work, then opt for loafers or boat shoes but not sandals.
Some people have issues with their feet, they dry out so fast and crack especially in summer, my advice is to wear closed sandals like the one in position (4) , some times i see men wearing socks with sandals, you can also try it, if you have foot issues.
PICTURES OF MEN WEARING SANDALS:
Advertisements
Today on Olixe, I have compiled a list of the best sandals for men and i have briefly explained what to wear with each of these sandals.
Advertisements
NOTE: Links to stores where you can buy these SANDALS for men are listed at the end of this post.
TOP 10 SANDALS FOR MEN:
1. KEEN Men's Newport H2 Sandal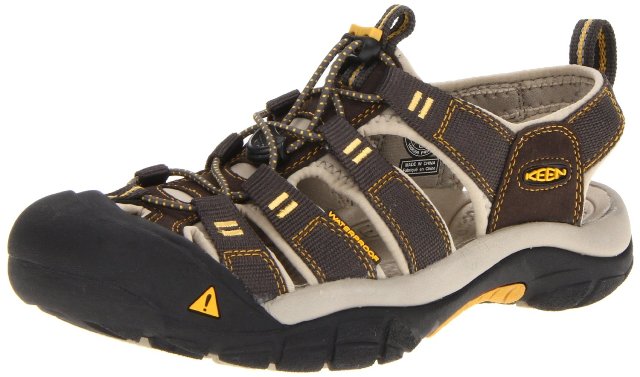 Advertisements
AFFORDABLE SANDALS FOR MEN:
KEEN Men's Newport H2 Sandal – $99.95
Birkenstock Unisex Arizona Sandal – $30.00
Reef Men's Fanning Sandal – $27.27
Reef Men's Phantoms Thong Sandal – $14.74
Crocs Unisex Modi Flip Flop – $17.95
As you plan to wear outdoor sandals, you also have to think about the safety of your foot, this Newport H2 Sandal has an enclosed rubber toe which will cover and protect your toes. It features a rubber sole, a quick-draw bungee lacing system which makes them easy to wear. This is a casual sandal so you can match it with various casual trends.
Let's see what you can wear with this Newport H2 Sandal for men?
Tip 1: Judging from its style, you can team it with shorts. Both denim shorts and cargo shorts will match well with these sandals. Remember, these sandals are not good for hiking, even though they look comfortable, wear hiking boots or sneakers not these sandals. You can complement the shorts with a round neck t-shirt and a jumper if necessary.
2.


Larry' Slide Sandal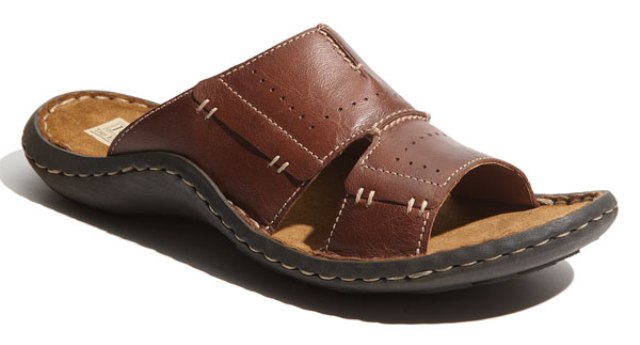 This is the type of sandal you can wear with both shorts and pants. Slide sandals are easy to wear, this Larry' Slide Sandal features leather upper, slip-on style and a polyurethane sole. The options of styling this sandal are limitless, for example, you can wear it with linen pants then complement the trend with a slim fit linen shirt, you can team them with chino pants or jeans, to look fashionable in this trend, you can wear a casual blazer and a plaid shirt.
What else can you wear with this slide sandal?
Tip 1: You can team it with a flat front trouser because it has a formal style, then wear a long sleeved tight t-shirt, to look formal, tuck in the t-shirt and match the sandals with a brown belt.
3.


Teva Men's Katavi Leather Outdoor Sandal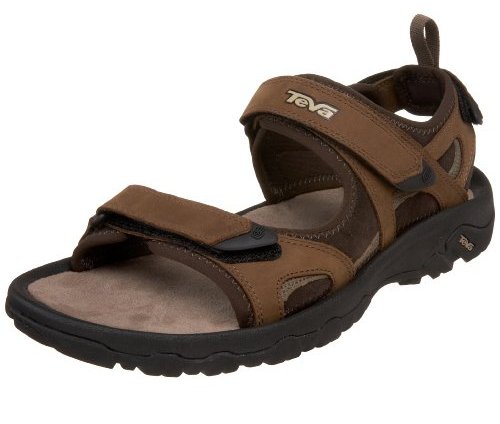 This is one of the most popular outdoor sandals. I see many people wearing this style of sandal. They look durable and comfortable; you can even wear them for an evening walk. This sandal is unisex, so both men and women can wear it. It features full grain waterproof leather and an anatomical microfiber foot bed which makes them durable and comfortable.
What to wear with this Cocoa Leather Outdoor Sandal for men?
Tip 1: It is casual in style, so team it with cargo pant. In this case, you can opt for fitting cargo pants and also make sure that they don't cover the top of the sandals. You can also team them with jeans and shorts. But don't wear them with linen pants or trousers.
4.


Tarifa' Sandal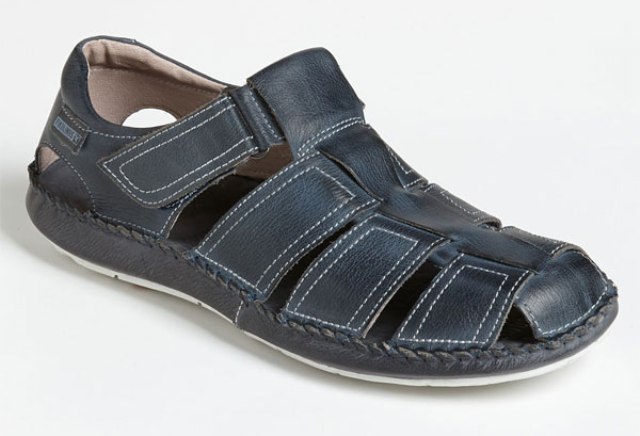 You want to wear sandals to work on Friday or weekends but you're confused on which sandal to wear, it is okay, opt for this Tarifa' Sandal, it looks more like a close-up shoe which makes it a bit formal, so you can team it with casual-formal outfits like khaki pants or non-fade straight leg denim jeans . This sandal features leather upper, leather lining and rubber sole which makes them comfortable and durable.
What to wear with Pikolino Sandals?
Tip 1: Since they have this formal look, you can team them with white chino pants, then complement the chinos with a black and white printed stiff collar shirt. Add value to this trend by matching the trend with black single button jacket. Make sure you wear a black belt because it will match well with these Pikolino sandals.
5.


Teva Men's Toachi 2 Outdoor Performance Sandal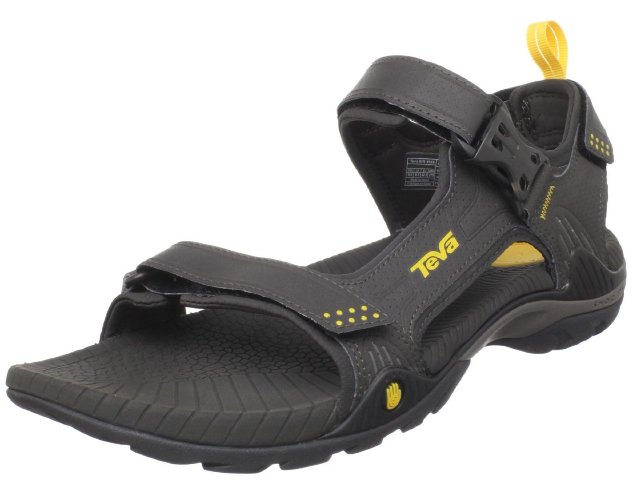 When it comes to simplicity, i will opt for these Outdoor Performance Sandals, they have a rubber sole which is raised on the front to provide protection to your toes, and they also have an external shock pad heel for extra comfort. You can easily adjust it using the upper straps and get a perfect fit. If you wear them during a rainy season, your feet will dry so first because they use a Drain frame Technology which will evacuate water through the mid-sole and this will keep your feet dry.
Styling these Outdoor Performance Sandals:
Tip 1: These casual outdoor sandals can match with jeans, cargo pants, shorts and linen pants. There is no unique way of styling this trend, try to be creative and match your trends very well.
6.


Hiapo' Flip Flop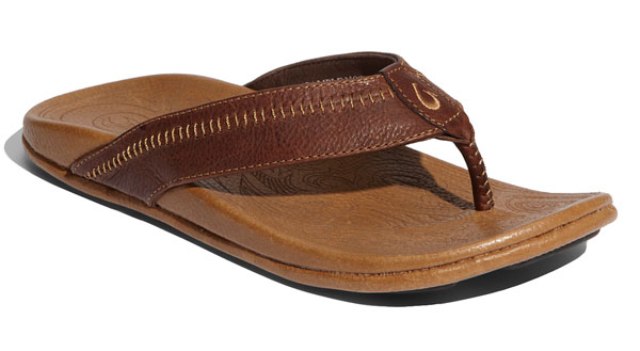 I love flip flops but the only thing i hate about them is that they're not durable and comfortable like slide sandals. Though you can wear flip flops with most casual trends. This Hiapo' Flip Flop features leather upper, leather lining with rubber and leather sole. You can wear these flip flops with linen pants , chinos, flat front trousers, shorts and jeans. So you see, the options of styling them are limitless, all you have to do is to mix-match your trends in an appropriate manner.
Guys' don't wear socks with these flip flops, if you want to wear socks with sandals, then you should opt for shoe (7)
7.


Birkenstock Arizona Soft Footbed Sandal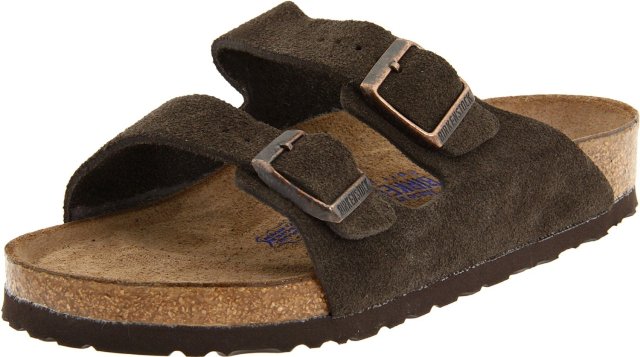 A soft foot-bed sandal is the best sandal for men who always have issues with their feet, these sandals are created in such a way that they will massage your foot and you will feel 100% comfortable. They look a bit corporate, and i have seen many corporate men wearing these soft foot-bed sandals. They feature suede upper, side lock style, soft foot-bed and a rubber sole. You can ware these Arizona Soft Foot-bed Sandals with trousers, khaki pants, jeans and shorts, cargo and khaki shorts will match with these sandals.
8. Harris' Sandal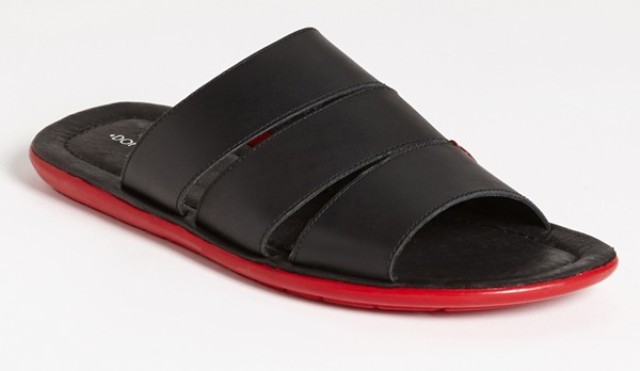 If you want to look formal while wearing sandals, then this is the best sandal for you. Its slip on style narrow open toe front makes them look classic. You can team them with linen pants, straight leg formal jeans, chino pants, trousers and khaki shorts. Don't ware socks with this Harris' Sandal, but you can wear socks with sandal (7). This sandal features calfskin leather upper , a rubber sole and leather lining.
9.


ECCO Men's Yucatan Sandal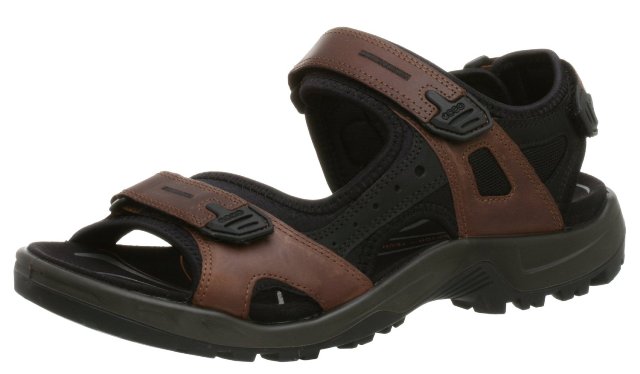 The only difference between this sandal and the one in position (3) is that this ECCO Men's Yucatan Sandal has a raised front which will provide extra protection to your toe, so if you plan to wear outdoor sandals and go to a rocky or rugged surface area, you will need to opt for these ecco sandals. They feature leather upper, receptor technology in foot-bed which makes them comfortable.
When it comes to styling these sandals, you will have a wide option on what to wear. For example, you can team them with jeans, shorts, cargo pants, khaki shorts and cargo shorts. If you wear them with chino pants, complement the trend with a collar t-shirt with horizontal stripes.
10. Tirreno' Cross Strap Sandal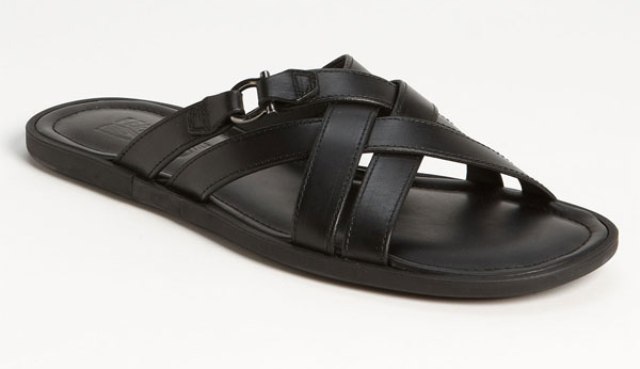 The only thing i like about strap sandals is that you can wear them with anything, unlike other outdoor sandals. This black leather upper strapped sandal can match with both casual and formal outfits. For example, you can team them with trousers, shorts, chinos and jeans, however, due to their formal style, make sure that you complement your trends with casual but formal trends.
For example, if you wear shorts with these Tirreno cross sandals; you can match your shorts with a casual blazer and a v-neck horizontal stripe shirt.
The sandal features calfskin upper and a rubber sole.
SHOPPING LINKS:
SShoe type 1:-

amzn.to/16jIWHL

Shoe type 2:-

bit.ly/19wiNcD

Shoe type 3:-

amzn.to/11Z3BLP

Shoe type 4:-

bit.ly/14zoLWl

Shoe type 5:-

amzn.to/12qS6mE

Shoe type 6:-

bit.ly/11yTkGi

Shoe type 7:-

amzn.to/13Io0Yg

Shoe type 8:-

bit.ly/16jKG3J

Shoe type 9:-

amzn.to/12qSwcG

Shoe type 10:-

bit.ly/12qSBgw
WHAT IS YOUR OPINION?
Feel free to ask a question or leave your comments and thoughts below…